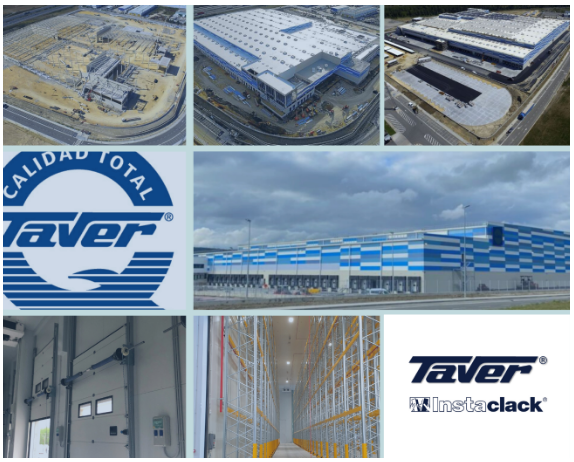 22 Sep

NEW INSTALLATION OF INSTACLACK REFRIGERATION PANEL®

At GRUPO TAVER we are obsessed with making our clients satisfied. Since 1965, we have made a wide range of products available to our customers aimed at meeting their needs. Half suits because all our clients are unique, neither big nor small.

We are proud to fulfill every commission we receive; Today we want to focus on one that we have completed after a year of work: a new logistics platform for one of the leading companies in the distribution sector. The project has been built on a 110,000 m2 plot, with a 53,000 m2 warehouse with 50 docks for trucks. The facility is the second largest that this multinational distribution company has in Spain.

Once again, the Client has entrusted GRUPO TAVER with the supply and installation of the insulating panels for all its refrigerated rooms. A total of 43,000 m2 of Instaclack® refrigeration panel, of which 9,500 m2 are for freezing chambers. 180 mm panels for frozen rooms, and 120 mm for cold rooms; picking rooms, dry storage rooms … An installation work with enclosures at different heights, adapted to their function, and in which we have also been responsible for supplying and assembling the pedestrian doors of the different chambers and the slat curtains of the docks area. Everything necessary to make this installation the reference Distribution Center for the North of Spain.

Quality, innovation, professionalism, energy saving and comprehensive service, essential values ​​that we have applied in this work and that we apply every day in everything we do.