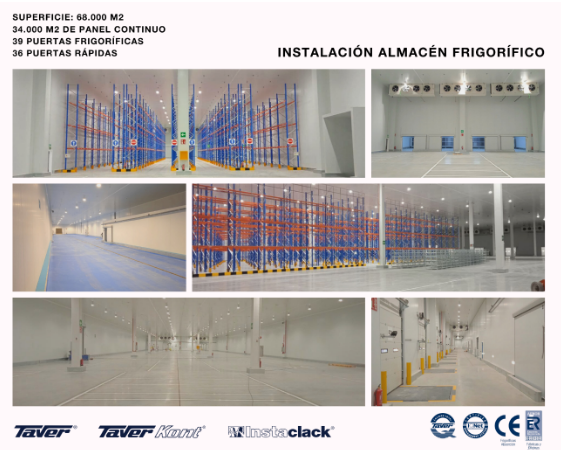 03 Feb

REFRIGERATED LOGISTICS WAREHOUSE

The end of January has coincided with the completion of a work of which we are very proud at GRUPO TAVER.

This is the construction in the Community of Madrid of a logistics warehouse of 68,000 m2 in an area of ​​127,000 and that will be the largest in the State of a well-known food retail company and that will serve its network of establishments in the Center of the peninsula, which representing more than 500 stores.

The TAVER GROUP has provided our renowned Taverkont continuous panel, 7,000m2 of 200mm and 27,000m2 of 100mm, 39 refrigerated doors, 36 high-speed doors… used to hermitize and distribute the space inside the enclosure, storage systems, clean rooms, cold rooms, freezer rooms, loading docks prepared so that operations are carried out in optimal conditions, guaranteeing that the cold chain is not broken.

Four and a half months of assembly to complete a magnificent installation. Good job from our assembly, commercial and back-office departments, congratulations. We continue!