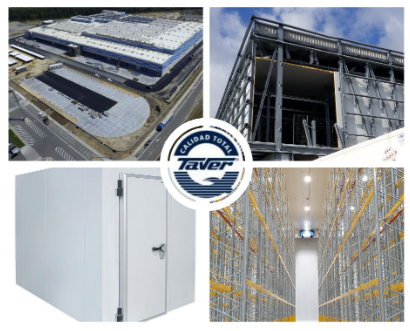 14 Oct

WHY Taver?

We have already explained on occasion that for the people who work in the TAVER INSTACLACK GROUP, the customer is the center. We like to explain that we offer a Comprehensive Service adapted to the client's needs, that is, in addition to manufacturing and serving top quality insulating panels, if necessary, we advise on the conception of the installation, accompanying the client at the beginning of the project and during its execution. We provide the experience that our 55 years in the sector give us, embodied in the more than 100 professionals who work in the Group. Our experience and professional trajectory are the best guarantee of quality technical advice for any project.

The competitive market in which we operate demands more from us. At TAVER INSTACLACK GROUP we offer products of proven quality as a result of a policy of continuous investment in R & D & i to ensure that our clients have thermal insulating panels that are among the best on the market, incorporating exclusive elements that make them excellent.

The result of all this work is a complete range of products: thermal insulation panel with exclusive Taver Instaclack® mechanical bonding system, a continuous panel optimal for works of all kinds such as Taver Kont®, a Tavercub® roof panel and a panel Taverfac® façade, with different sizes and thicknesses that make them super adaptable to the needs of each construction. This complete offer allows us to have a very varied portfolio of projects that ranges from modular cold rooms -1,200 models available and dispensing in 24 hours- to projects of logistics warehouses that are benchmarks in the sector, clad-rack warehouses, clean rooms for important pharmaceutical laboratories and for front-line food companies.

And all this by developing a sustainable management policy: all production processes and product design are developed to actively contribute to minimizing the impact on the environment, favoring sustainability. We are certified with ISO 14001, which guarantees an effective environmental management system within our organization.

I invite you to enter our website, www.taver.es where you will find detailed information about our products.