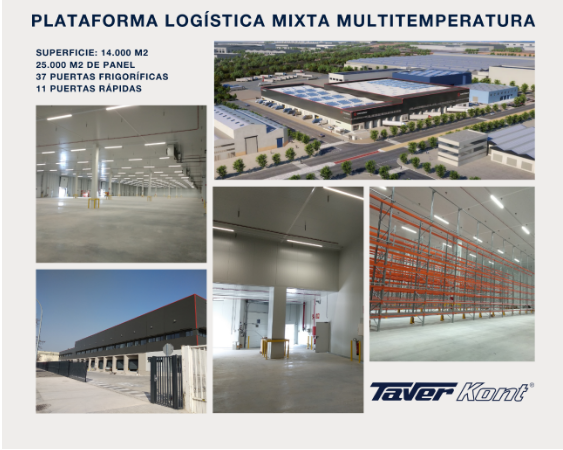 16 Feb

MULTI-TEMPERATURE MIXED LOGISTICS PLATFORM

Our participation in the construction of a logistics platform that will be used by a well-known multinational in the distribution sector ends. There are 14,000m2 of distribution warehouse and offices.

We at GRUPO TAVER have provided 25,000m2 of our Taverkont panel, in thicknesses of 100 and 180mm, 11 high-speed doors and 37 pivoting doors for refrigeration, 20 for freezing and 17 for refrigeration. The assembly time has been approximately four months and the result has been the adaptation of the platform in a mixed and multi-temperature space that will have Breeam EXCELLENT certification. This certifies energy efficiency and the reduction of the environmental impact of the building, savings in maintenance and operation of the platform and increase in its useful life.

The completion of this work confirms the role of GRUPO TAVER as a reference company for the agri-food and distribution sectors as a supplier of quality thermal insulation panels for the construction of logistics warehouses and distribution platforms and as a reliable partner in assembly work.

Our 65 years of experience guarantee the quality of our products and our capillarity guarantees a top level of customer service.