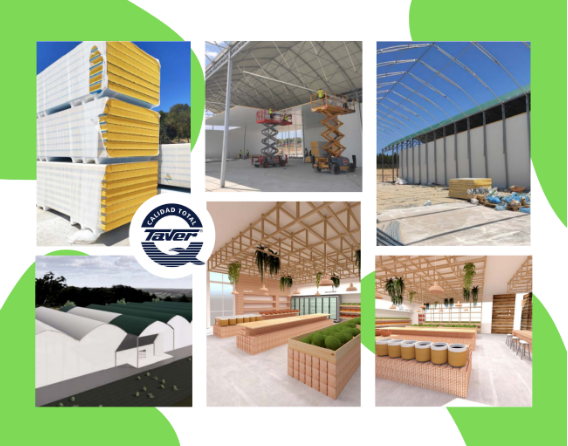 23 Feb

AGRI-FOOD WAREHOUSE AND PRODUCT EXHIBITION STORE

We present you another project from GRUPO TAVER for the agri-food sector. It is about the construction of a facility located in one of the cultivation fields managed by the company Terracor, a Majorcan company based in Manacor, dedicated to the cultivation of fruits, vegetables, vegetables and aromatic herbs.

The installation has been built in Petra and will have the function of storage and conservation, an area for retail sales has also been adapted, a space where the company's philosophy is reflected, the company's own product, fruits, vegetables is displayed. , sauces, oils, beers, bread… an area for product testing and a greenhouse where customers can pick fruit and vegetables and live a unique @terragust experience.

This work has been a collaboration with ComercialFríoBalear and 6000 m2 of our Taverkont panel of different thicknesses have been used, a product of the @grupotaver certified Euro Class B-s1, d0 and FM Approvals, more than 50 doors have been supplied, sliding, pivoting, oscillating… and our assembly team has been used to carry out the work.